H.G. Wells - Dystopian/Utopian Author
H.G.Wells was an English writer, politic and prolific journalist and historian, known for his science fiction novels and he is regarded as one of the Father of science fiction, alongside with Jules Verne. Beside science fiction novel, he wrote a number of Utopian novels in which he was seeking a better organization of society, and according to him The World State was a political ideal. This State would be a planned society in which science and nationalism would advance. He was the international president of PEN (1934-1946).
He was born in 1866 in England. He displayed an interest in literature in his early age, reading books from the library. He started studying in Thomas Morley's Commercial Academy but financial hardship forced him to leave it and he began his apprenticeship as a draper. He encountered his experiences in the novels The Wheels of Chance and Kipps. In 1883 he was a teacher/ pupil at Midhurst Grammar School, until he obeyed a scholarship to the Normal School of Science in London where he studied zoology (his teacher was T.H. Huxley) which would have influence on his writing.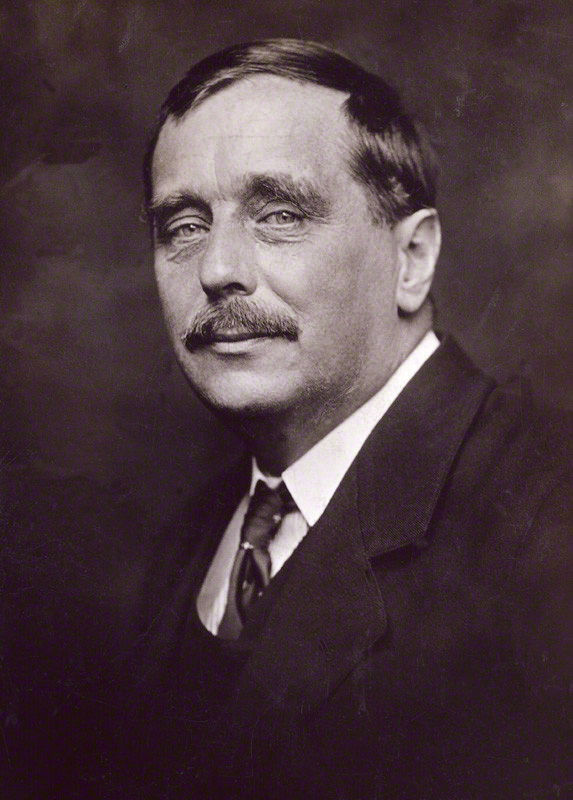 He was soon a member of The Debating Society of the School and was among the ones who launched The Science School Journal, a school magazine where he could write about his views on literature and society. In 1887 he left the school without a degree but he later took his Bachelor of Science degree in Zoology in 1890.
He became full-time writer from 1893 when he published The Time Machine, his first science fiction novel in which Wells explained the basic principles of a fourth dimension. This novel was followed by The Island of Dr. Moreau (1896), The Invisible Man (1897), The War of the Worlds (1898), The First Man on the Moon (1901), The War in the Air (1908), The Shape of Things to Come (1933). The majority of his books have been adapted to films.
After World War I, Wells wrote several nonfiction works, including The Outline of History (1920), The Science of Life (1930), The Work, Wealth and Happiness of Mankind (1931), Experiment in Autobiography (1934). His last book was Mind at the End of its Tether (1945)
He died in London in 1946.